"Mussol and the coronavirus", an illustrated story for children and adults that helps to understand COVID-19
· What is the SARS-CoV-2 virus? How does it attack our cells? How is it spread? And why should we be confined? Three researchers from the Animal Health Research Center (CReSA) of the Institute of Agrifood Research and Technology (IRTA) have written a story to answer questions about the pandemic.
· The story is a personal initiative, unpaid and without editorial for now available in Catalan, Spanish and English thanks to the work of volunteers during the lockdown.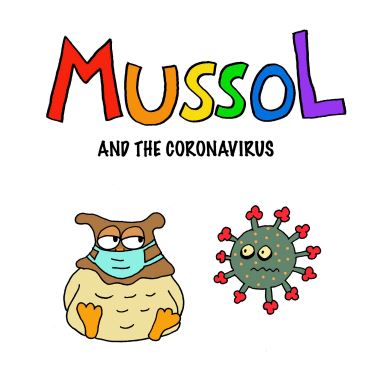 Confinement due to COVID-19 has been an opportunity to spend some time on some hobbies. This is the case of Enric Vidal, a researcher of IRTA-CReSA confined in Barcelona and passionate about illustration. With the help of Júlia Vergara-Alert, a coronavirus researcher at IRTA-CReSA, and the advice of Xavier Abad, head of the High Biocontainment Unit at IRTA-CReSA, they have created the illustrated story Mussol and the coronavirus in digital format and free of charge.
The story explains in a pleasant and understandable way what scientists know about coronavirus SARS-CoV-2 and COVID-19, and addresses basic issues such as what is the coronavirus, where its name comes from, and how it is transmitted, what is a vaccine, if it's useless to wear masks and why we have to confine ourselves. "We found that people still had a lot of questions about the pandemic, especially in the naming of the virus and the disease. For example, in the tale we clarified that COVID-19 is the name of the disease and SARS-CoV-2 is the name of the virus," explains Enric Vidal.
The story is aimed not only at children, but also at young people and adults. "Drawings really help to understand some concepts, especially the more technical and scientific words, but we also thought that it could help families who can read the story to their children," explains Júlia Vergara-Alert. "Lockdown is an exceptional situation for all of us and any effort to help understand it is welcome," says Xavier Abad.
The Mussol collection
Mussol and the coronavirus is the ninth tale in the collection by Enric Vidal, a specialist in prion diseases at IRTA-CReSA. His other works are: Mussol and neurons, Mussol and the numbers, Mussol and the alphabet, Mussol and dogs, Mussol and how we are inside, Mussol and the microbes, Mussol and the families and Mussol and the antonyms.
You can download the story in PDF format in several languages, thanks to the translation of selfless volunteers:
English / Catalan / Spanish/ Euskera / Italian / French / German / Chinese (Mandarin) / Classic Latin