5th International Course in Dry Cured Meat Products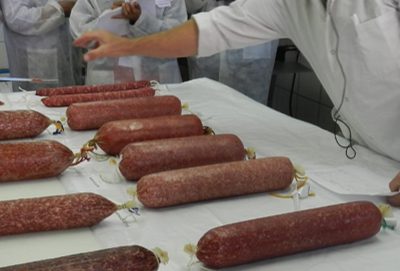 Dry curing is a method used since the beginning of mankind to preserve meat. Nowadays dry cured meat products, such as fermented sausages and dry-cured ham, are highly appreciated due to their sensory characteristics. Despite being traditional products, they are constantly evolving in order to meet the needs of an ever changing market and consumer trends. A thorough knowledge of the individual and combined effects of a variety of raw materials, ingredients and processing methodologies is vital in order to successfully approach these continuous challenges.
Following the success of the first three editions, which were attended by almost 100 professionals from more than 20 different countries, we at IRTA are pleased to announce that the 5th International Course in Dry Cured Meat Products is to be held from May 29th to June 2nd, 2017 at IRTA centre located in Monells (Girona), Spain.
The 5th International Course in Dry Cured Meat Products will provide a comprehensive review of all aspects related to the manufacture of fermented sausages and dry-cured ham, including the latest developments in processing technologies and an overview of industrial trends.
The course places an important emphasis on practical training and 40 % of the classes are held in the pilot plant. It is aimed at those working in production, R&D, quality and sales departments of meat companies, Research and Technological centres and companies providing services, ingredients, materials and equipment to the meat industry.
The teaching staff combines an excellent scientific-technological knowledge, acquired at IRTA or in the private sector, with a continuous experience in collaboration, training and technology transfer within the meat sector.
Every year, one of the course topics is chosen for in-depth discussion. In 2017 the highlighted topic is The importance of starter cultures on sensory characteristics of dry fermented sausages.
More information: coursedrycuredmeat@irta.eu.
Also, you can look for the course webpage in the IRTA's agenda.