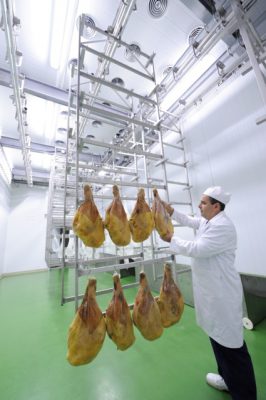 Services
1. Cooking technology
Oven and microwave temperature on-line monitoring..
Pasteurization and sterilization methods.
2. Salting and ripening conditions according to raw material characteristics
Sodium reduction.
Sodium penetration and distribution (computerized tomography analysis).
Minimization of crusting.
Audit and optimization of Dryer Conditions (RH, T, air flow).
3. Improvement and Control of safety and sensorial attributes of dried meat and fish products
Starter Culture Design.
Biopreservation (against Listeria monocytogenes, S.aureus, Salmonella, E.coli, …).
Starter Culture Traceability (genetic probes, challenge testing).
Sensorial and consumer tests (see Flavour Analysis Sheet).
4. New technologies in drying/ripening
Quick Drying System®.
Dynamic Drier®.
5. Functional ingredients and additives
Testing of new ingredients and additives.
6. Active and intelligent packaging of cooked, dried foodstuffs; MAP optimization and shelf life determination
New materials and packaging systems.
Bioactive interliver® for sliced packaged products.
7. Product innovation and product improvement 
Technological problems resolution
Additive functionality improvement
Drying conditions improvement
Raw material standardization improvement
New additives and technologies application
Safety improvement
8. Pilot plant demonstration of processing equipment
9. Renting/leasing of fully equipped pilot plant to manufacture all types of vegetables, meat and fish products and ready meals