Show side menu
Automation of meat cutting or meat derivatives to eliminate risks of work-related accidents and improve productivity and hygiene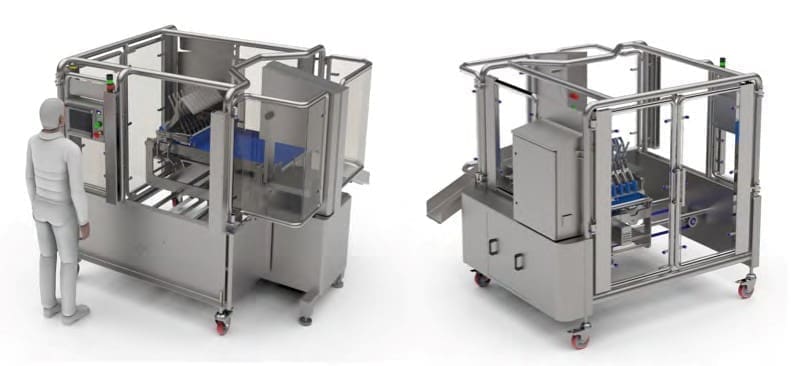 Starting date: 21/06/2019 End date: 30/09/2021
Programme: Food Quality and Technology
Principal investigator:
Financing entities:
Within the project coordinated by INNOVAC Automation of meat cutting or meat derivatives to eliminate risks of work-related accidents and improve productivity and hygiene, the Institute of Agrofood Research and Technology (IRTA) has worked together with TEMIC and the companies Frigoríficos Costa Brava SA and Esteban Espuña SA for the development of prototypes to optimize meat cuts.
The objectives of the project are to automate and optimize the cuts of fresh and frozen meat and meat products, improve the safety of operators and improve food safety through a hygienic design. In order to achieve the objectives, two innovative cutting systems have been validated.
One system allows to automate the process of cutting meat in existing ribbons, for all types of meat industry, but especially for slaughterhouses and disposal rooms. The aim is to optimize the process of cutting fresh and frozen meat by designing an automatic band saw with a hygienic design to make the process safer and more efficient, both from the point of view of the operator and the product.
And another system allows to automate the cutting of cured meat products, mainly for ham manufacturing industry. The aim is to optimize the cutting process in the middle of the cured ham by implementing a microcut disc on a conveyor belt directly to the slicer in order to optimize the processing from both a productive and safety point of view for the operator and for product quality.